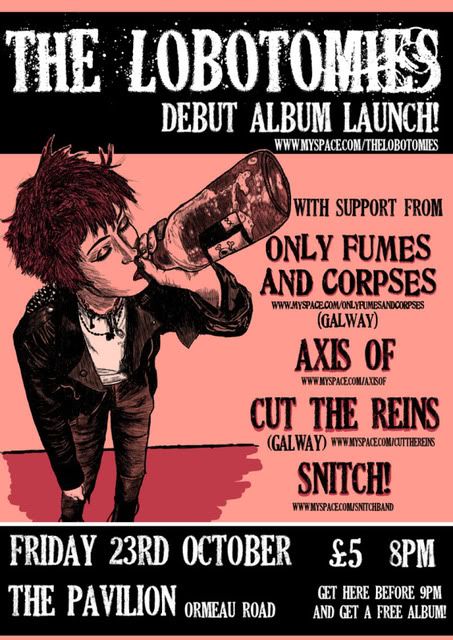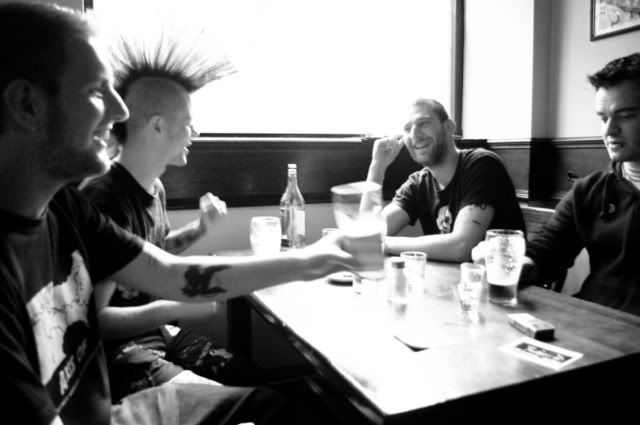 THE LOBOTOMIES:
''Since The Lobotomies started making noise in late 2005 they have clocked up nearly 250 gigs including 2 European tours, countless tours of the UK and Ireland, as well as self-releasing a split album and 7 track EP along the way. They have been lucky enough to share the stage with bands like:
Propagandhi, Strike Anywhere, Leftover Crack, MDC, Oi Polloi, Citizen Fish, Subhumans, Inner Terrestrials, the Restarts Anti-Nowhere League, Arnocorps, Go It Alone ...to name-drop but a few! The Lobotomies also managed to blag their way onto the main stage at 'Rebellion Festival' in 2008(the biggest independent punk festival in the world). The past 4 years of almost constant gigging has seen the band evolve and develop their own sound which combines all their punk, hardcore and even thrash influences to create a blistering brand of hardcore punk that appeals to anyone who lusts for furious, high-octane, adrenaline fuelled performances coupled with screaming indignance and raging energy.
The Lobotomies keep politics to the fore of their lyrical content, and try their best to operate along DIY and anarchist principles. This, combined with sterling alcohol consumption, has earned the band respect across underground scenes all over Europe.
The debut full length ''BIG BANG HANGOVER'' is 17 tracks of fast and furious hardcore punk bursting with anger and discontent, a dark, heavy and anthemic assault on the senses that still maintains its melodic side. BIG BANG HANGOVER is due for release on 23rd of October, self-released with help from EHC Records. After that expect to see The Lobotomies thrash everywhere and anywhere that will let them!''
For Promo Discs/booking/info/abuse contact:
thelobotomies@gmail.com
or visit
http://www.myspace.com/thelobotomies
ONLY FUMES AND CORPSES:
Ofac from Galway/Ballina play head exploding, complex and furious hardcore. They have been rippin' the Irish scene apart since 2005 as well as tearing the rest of Europe a new one. Their sound is as intricate as it is heavy, their lyrics angry, epic and intelligent. This band could stand up next to(if not wipe the floor with) any established acts in modern day hardcore. They have been compared to artists like Refused, Comeback Kid, ...Trail of Dead, Sick of it all, Tragedy, From Ashes Rise, Modern Life is War, Verse.
http://www.myspace.com/onlyfumesandcorpses
AXIS OF:
Hailing from the north coast originally but now based mostly in Belfast. Axis of combine fast, angry progressive riffs with heartfelt and thoughtful lyrics dealing with a wide range of political and environmental issues. These guys have immense song writing skills and have the ability to deliver an insanely energetic and near note perfect set every time. What the more do you want!?
http://www.myspace.com/axisof
CUT THE REINS:
''Galway's Cut The Reins whose mix of modern neo-crust and more accesible melodic hardcore suggests they will be a band worth keeping an ear out for. Again, thought and care has been put into structure, and while not quite as eye poppingly furious as some, the conviction in the music is evident.'' In such a short space of time this is a band that has already carved out its own awesome sound and with such a strong work ethic they are constantly winning over new fans. Their debut Album ''Man Made Dust'' has some instant hardcore classics on it, stay tuned for more anthemic, fist clenching anthems!
http://www.myspace.com/cutthereins
SNITCH!:
Rising from the ashes of melodic punk legends NUMSKULL these melodic punkers have stormed onto the local music scene all geetars ablazin! They combine catchy pop/punk hooks with harsh and more complex Dillinger Four-esque riffs to create a genuinely interesting and original sound. Snitch's wall of sound smacks you in the face then makes you wanna dance like an idiot!
http://www.myspace.com/snitchband