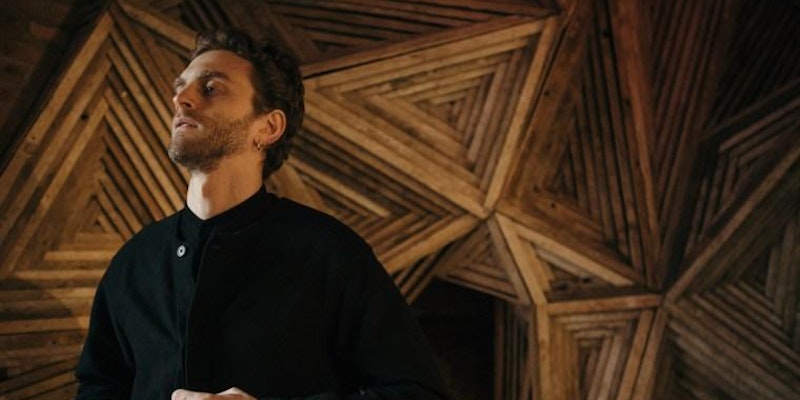 Greg Fox is a New York City born-and bred drummer, multidisciplinary artist, and teacher. He has played on and released about 50 records since 2008, including his work with Liturgy, Ex Eye, ZS, Ben Frost, Colin Stetson, Skeletons, Hieroglyphic Being, Man Forever, and others, as well as with his own solo work and his projects GDFX and Guardian Alien. Fox has toured worldwide with various groups and collaborations, held residencies at The Clocktower NYC and Pioneer Works, and was awarded "Best Drummer in NYC" by the Village Voice in 2011. Greg spent 2016 for the most part at home in NYC, working on new collaborations and compositions, teaching individual and group drum lessons, and exploring new territory as a solo artist, using a hybridized electroacoustic drum setup to explore new dimensions through the traditional gestures of the modern drummer and the possibilities inherent in electronic and computer music.
In 2017 Fox has toured the results of those explorations, his second solo album 'The Gradual Progression'. Fox views 'The Gradual Progression' as an exploration of selfhood, and more specifically, the search for his true voice as an artist. The seven pieces of 'The Gradual Progression' activate spiritual states through physical means, Fox's rigorous inner rhythms the mandalic vessel for unbound expression and arrangement and signals both a reconciliation of disparate musical ventures and a new nirvanic stage in the artist's oeuvre. Fox employs new methods of externalizing his polyrhythmic virtuosity into non-physical realms. This transfer of energy is achieved through responsive environments tethered to various aspects of the performance. Sensors attached to Fox's drum kit trigger tonal palettes, or virtual instruments invented for each piece, which Fox communes with in the post-Free Jazz manner. That is, locating and emphasizing states of universal resonance in solo and ensemble settings in place of demonstrating individual ability.
This will be Greg's first solo show in Dublin and will undoubtedly be a treat for the senses.
Tickets:
https://www.eventbrite.ie/e/greg-fox-liturgy-ex-eye-guardian-alien-katie-oneill-tickets-41367460187
Sounds:
https://gregfox.bandcamp.com/album/the-gradual-progression
https://gregfox.space/